Marketing your APPROVE Financing Program
---
Your New Financing Program (Powered by APPROVE) is a great value for your customers. No other financing program leverages a network of the nation's top lenders to deliver multiple competing financing offers to customers. So, we've provided some marketing tools and assets to help you promote the value of Your Financing Program to all your customers and prospects.
Below is a list of some marketing tactics you can use to announce Your APPROVE Financing Program and integrate it into your communications.
Financing Program Website Landing Page
One of the best ways to let your customers and prospects know about Your New Financing Program is to promote it on your website. You can add a link in your website navigation, header, or footer that goes to a simple webpage describing the benefits and advantages of Your Financing Program.

Below is a sample page you can use as a starting point for Your Financing Program webpage:
Welcome to the [YourCompanyNameHere] Financing Program
Lenders Compete...You Choose the Winner
Instead of working with one lender and wondering if you're getting a good rate, [YourCompanyNameHere] leverages competition among a network of the nation's top lenders to ensure you're getting the lowest financing rates available.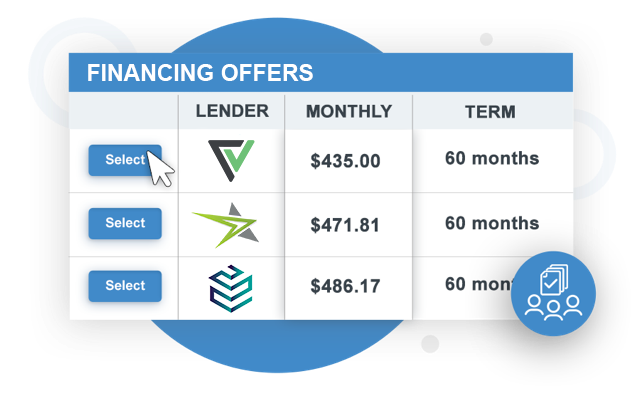 Here's how it works
| | |
| --- | --- |
| APPLY | Submit one easy online application in seconds. |
| CHOOSE | The first 3 lenders to approve your application submit their offers - choose the best one. |
| EARN | Get your equipment, get to work, and start growing revenue. |

Financing Equipment is Good for Your Business
| | |
| --- | --- |
| Conserve Your Cash | Conserving cash to cover expenses is huge for managing the ups and downs of business. Why deplete your cash reserves on large capital expenditures that can easily be financed when you can use that money for other investments in your business. |
| Pay As you Earn | Equipment generates revenue. That's why you buy it. Financing lets you align the investment with the income generated over the life of the equipment. |
| Manage Cash | Locking in fixed monthly payments helps you manage your books easier. |
| Tax Advantages | Ask your accountant about taking advantage of the Section 179 tax deducation for financed equipment. This gives you the ability to deduct the full value of the equipment the year you buy if that may make sense for your business. |
Lender Competition is Great for Your Business
| | |
| --- | --- |
| One application, multiple offers | Side-by-side comparisons |
| Increased chances of being approved | Informed business decisions |
| Lenders' most competitive rates | Faster approvals and funding |
Start Financing Your Equipment Today
To begin the process of getting the equipment you need at affordable monthly payments simply look for the "APPLY FOR FINANCING" button in our catalog and shopping cart.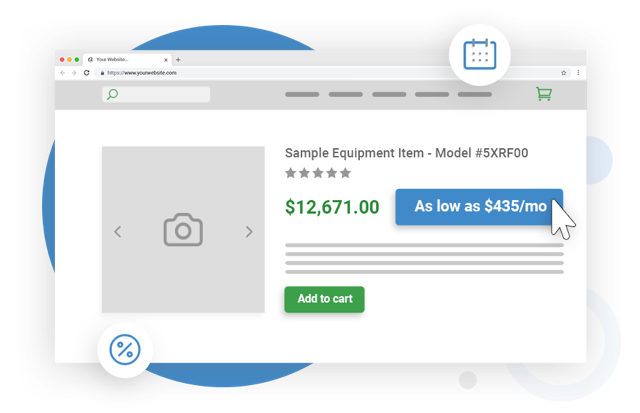 If you dont see what you're looking for in our online catalog, please call us at 888-UR-NUMBER for a custom quote of the exact equipment you need and the ability to apply for financing right in the quote!

One simple 60-second application could get you the equipment you need and the affordable monthly rate you want.
Site Announcement
You may also want to promote Your Financing Program to every customer or prospect that visits your website for a period of time. Pop-ups are a great way to do this. You can use an entry pop-up that appears when customers first visit the website or a click pop-up when they first click to enter your catalog.

Below is a starting point for messaging you can use in a pop-up on your website:
You need equipment.
We've made it easy and affordable.
Introducing the [YourCompanyNameHere] Financing Program
Complete a simple, 60-second application from any product pages with an button and recieve competing offers from up to 3 of the nation's top lenders.
It's that simple!


Email Announcement
Another great way to let all your customers and prospects know about Your New Financing Program is with an email announcement.
Email Subject:
Introducing the [YourCompanyName] Financing Program
Email Content:
Dear [Firstname],

We're excited to announce the launch of our new [YourCompanyName] Financing Program. If your business needs equipment and would benefit from affordable monthly payments as an alternative to paying in full, you're going to appreciate this innovative new financing option.

We've partnered with an entire network of nation's top equipment finance companies, and they are ready to compete with each other to earn your financing business.

One application...multiple lender offers to compare
Submit one 60-second financing application and our lender network is automatically notified.
The first three lenders to approve your application will submit their best offers for your review.
Choose the best option, receive your equipment, and put it to work.
We hope the new [YourCompanyName] Financing Program will make it easy and affordable to get the equipment your business needs.
Press Release
Your company is launching the most innovative and efficient financing program in the B2B equipment market today - and that's newsworthy! There are many media outlets that would be interested in sharing this exciting story and a press release is the best way to let them know. If your press release gets picked up it's great exposure for your brand and may attract the attention of prospects in need of the equipment you carry.
**[Your Logo Here]**


FOR IMMEDIATE RELEASE



[Company Name] Announces Launch of Unique Financing Program



City, State; Month XX, 20XX – [Company Name] has just launched an innovative equipment financing program that leverages technology and a network of equipment finance companies to efficiently deliver multiple competitive financing offers to their customers. This new offering, which the company calls [Program Name], enables their customers to submit one finance application and receive up to three financing offers from competing lenders.

According to [Company Name Title (CEO/Owner/President)], "Many customers prefer affordable monthly finance payments over "paying in full" for equipment. We're excited to offer a smart new financing program that is amazingly efficient and ensures our customers are receiving the lowest possible financing costs. With a whole network of the nation's top lenders competing with their best finance offers, we're delivering more approvals, more choices and lower rates to our customers."

The [Financing Program Name] also includes an online dashboard where customers can track the status of applications, review and compare their financing offers, and choose their preferred offer.

"Instead of sending our customers away to a lender's website, this in-house program brings the lenders to our customers and provides a remarkably easy way for financing deals to get done," said [Lastname of previous quote].

About [Your Company Name]

Contact:
Phone:
Email:


Complete this Press Release template and send it to:
Local or regional news outlets with business or technology coverage
Trade publications that cover your industry
Industry Associations
Manufacturers of the equipment brands you carry
Equipment financing publications
Other media that might be interested in sharing your news
Email Signature
A great way to let everyone know you provide an amazing financing program is to put it in every email you send. You may also want to include a clickable link that directs customers to Your Financing Program website landing page.
Dear John,

Thanks for you business. Your equipment is on it's way. Let me know when else you need.

Regards,

Sammy Salesguy
Your Company Name Here
www.yourcompany.com
Ask me about our Equipment Financing Program

Some Free Images
Feel free to use any of the images below in marketing Your New Financing Program.
Competing Lenders
A network of competing lenders is the core value of Your New Financing Program. Competition drives faster approvals, betters rates, and more options for you customers. Below is great image to use to emphasize the value of a network of competing lenders and more customer options: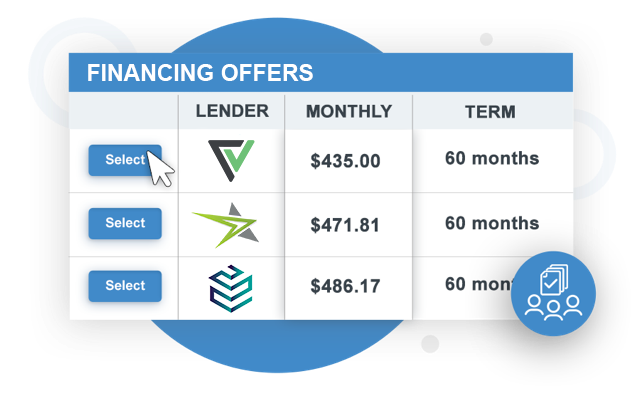 APPROVE Website Integration
A great image to use when explaining that your customers can apply for financing right from your website: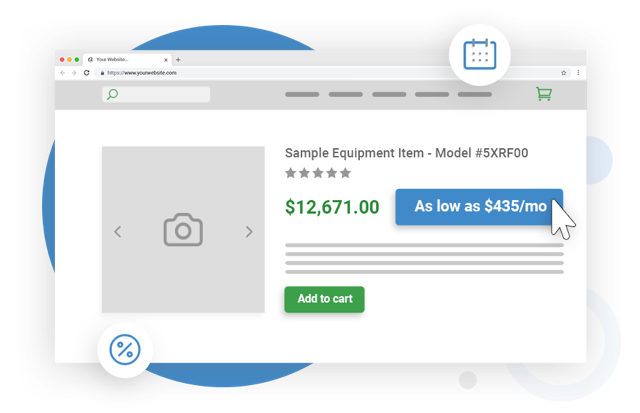 Simple Application Process
With APPROVE, the process your customer goes through to apply for financing is as easy as 1-2-3:
Complete a 60-second application
Recieve offers from one-or-more competing lenders
Pick the offer you want, sign the docs, and get your equipment

Partnership
We've partnered with the top equipment financing companies in the nation to provide you with the best financing experience available anywhere. With the [Your Financing Program Name] lender network you receive the highest chances of approval, the lowest possible rates and side-by-side choices to ensure informed decision.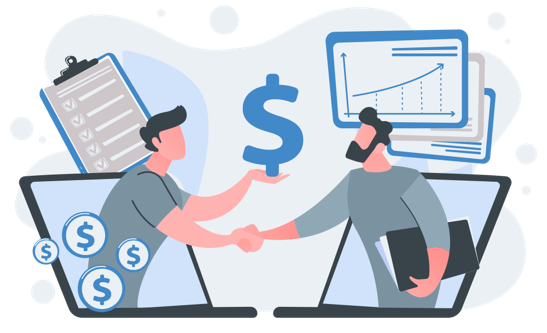 APPROVE Logos
APPROVE is your business' in-house financing program, and we've made it easy to customize with your logo and brand colors to really make it your own. However, the APPROVE brand is already widely recognized for delivering the most innovative financing solution in B2B equipment sales.

Adding the "Powered by APPROVE" logo anywhere you promote your financing program gives you a significant competitive advantage because businesses will immediately know your program leverages technology and competition among lenders to deliver the highest approval rates, the lowest financing costs, and side-by-side options to ensure informed business decisions.
| | |
| --- | --- |
| Light Color 72dpi | |
| Light Color 300dpi | |
| Dark Color 72dpi | |
| Dark Color 300dpi | |
| Light Mono 72dpi | |
| Light Mono 300dpi | |
| Dark Mono 72dpi | |
| Dark Mono 300dpi | |